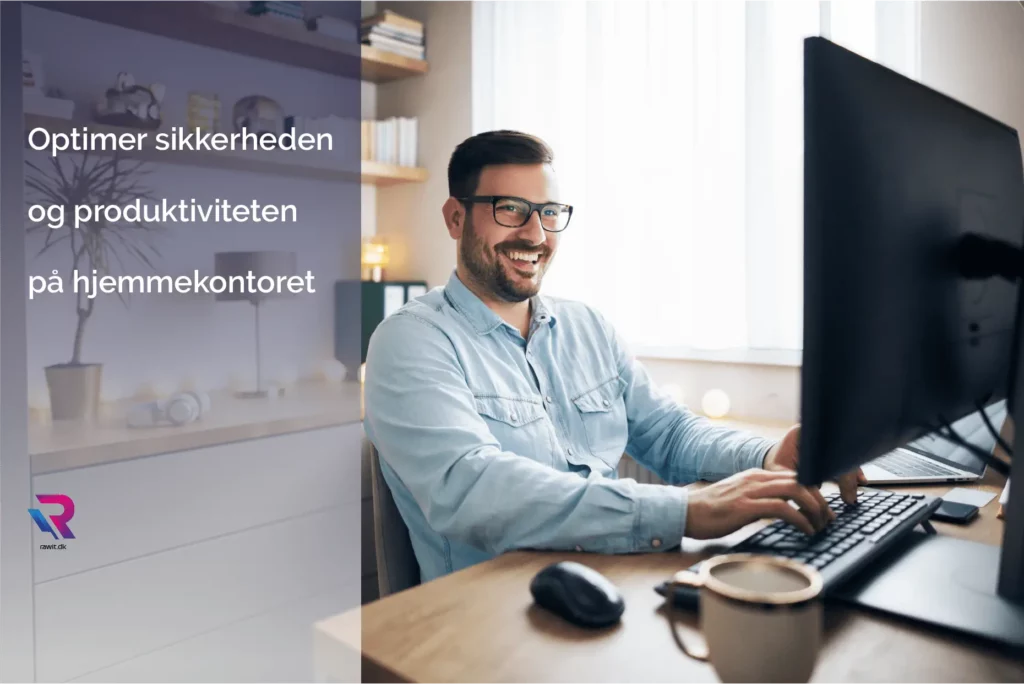 There are many companies that have quickly had to adapt to having employees work from home. In many cases, it has gone so fast that it can have a negative impact on IT security and productivity.
Many companies have chosen to continue with the home working day concept, so it may well be worth it to put together the right office environment at home.
4 tips to improve the home office
1. Find a good and undisturbed place to decorate your workplace.
By finding an undisturbed place in the home, you can better concentrate on your work tasks and thus get through your to-do lists faster.
2. Invest in the right equipment
Are you or your employees one of those who have brought the screen with them from the office or do you work on a laptop at home? Then it's probably time to get the right set-up for the home office.
One of the world's largest analysis houses, Gartner, states that your employees become more efficient with larger computer screens. Gartner believes that productivity can be increased by as much as 20 per cent. by switching to a larger screen.
It is a good investment to give employees the right IT equipment for the home office, as employees can get pain in the neck and shoulders by sitting badly and looking into a 13" screen. In addition to better efficiency, a larger screen helps your body position and at the same time gets the blue screen light a little further away.
RAW IT offers a super good starter package, which includes a 24" screen with wireless keyboard and mouse, at an affordable price. If a larger screen is needed, we can do that too.
3. IT security
Cyber ​​attacks have escalated during and after Corona, as more people work at home and log on to the same network as their family. This makes the work computer and its data more vulnerable to cyber attacks. In Ransomeware attacks, your data is locked until the amount charged is paid, so it's a good idea to get your IT security under control.

How to secure your home office:
Encrypted Internet access with VPN tunnel
Have a proper and up-to-date IT security policy
Antivirus software
Use cloud-based or cloud-centric security solutions for all IT security controls
Secure your employees' mobile devices with Mobile Device Management (MDM)
Secure your online meetings
Educate your employees in IT awareness
Always update your software programs
Always make a back-up of your important files and documents
Use Multi-Factor Authentication (MFA)
Use different passwords
You can read more about IT security in the home office here.
4. Is there not the capacity for everyone to work from home?
Most companies give their employees the opportunity to work from home, but unfortunately not everyone has the opportunity to do so. It is often not possible for graphic designers, as they work with heavy files, which can overload or even crash the servers. This problem can be solved by migrating your data to the cloud or by acquiring new servers.
RAW IT offers hosting solutions where you can get a physical server or migrate your data to the cloud, which can be scaled as needed, so you only pay for what you use. We can also perform an operations analysis and optimization of your IT operations, where there can be a lot of money to save.
Do we need to set up the right framework for your and your colleagues' home office?
Så contact us non-committal today and let's talk about how we can help you get started.