Make every stay memorable with streaming
Allow your guests to be entertained by their favorite movies, series and channels from their own devices, so they can feel at home when away from home. Offer a tailored entertainment experience and make the stay more personal and comfortable for guests.
Make it easy for guests to stream their own content
Our solution differs from AirPlay and Miracast by allowing guests to stream Netflix in their hotel room while using other apps on their device. In addition, it gives access to unlimited connection of various devices during the entire stay.
Implementing streaming in the hotel provides guests with a personalized entertainment experience. With unlimited access to a wide range of entertainment, guests can choose and watch their favorite movies and series etc. via their own devices, creating flexibility and satisfaction. This solution signals modernity and differentiates the hotel from its competitors. Streaming thus strengthens guest satisfaction, improves guest reviews and creates memorable experiences for every guest.
The benefits of choosing streaming
Enjoy the many benefits of offering streaming to guests.

"Hotels that offer streaming make traveling with the family much easier - everyone gets what they want"
Features

that
the guests love

Streaming makes hotel guests feel at home even if they are away from home. It is a user-friendly solution that is secure and flexible.
Is Streaming a
certainly

choice?
For security reasons, this streaming solution is specially designed for hotel rooms. With an individual approval process through each device and TV. This ensures that the content is only displayed on the screen that belongs to the room in question. When the guest leaves the room, the guest is automatically logged off and the TV is now ready for the new guest.
It is easy and simple for the guest to get started with the streaming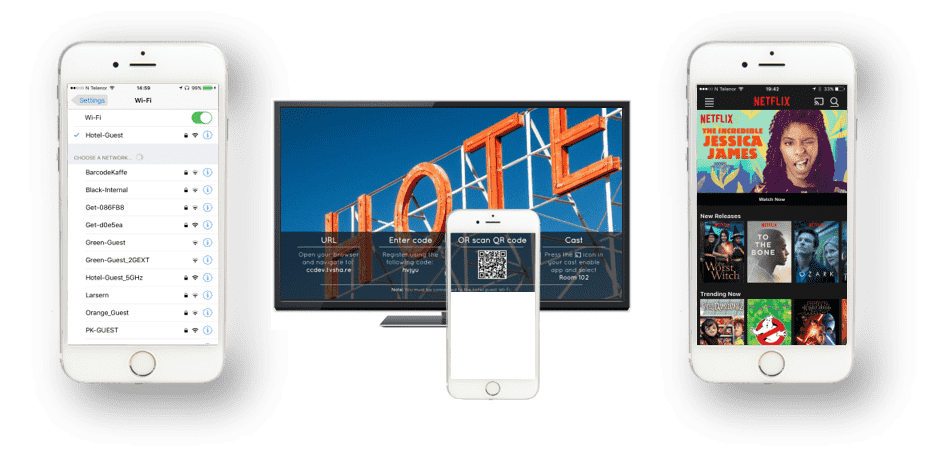 Brand the hotel with a logo and background image or something else via the user-friendly platform
Get a call from an advisor and
hear more about
streaming to hotels