Optimize the guest experience with a customized TV system
Create an impressive guest experience while increasing efficiency and reducing staff costs with digitization. Optimize earnings with integrated room service ordering, which is connected to PMS, POS, e-mail and the printer.
Explore the possibilities of a cloud-based TV system
Get more out of your hotel TV and create a unique guest experience. Explore a wide range of interactive features that allow guests to have service at their fingertips and give them access to useful information. With an intuitive TV system, guests can easily navigate through channels, apps and information. Expand the functionality with room service ordering, booking facilities and direct communication with the hotel. The cloud-based hotel TV helps create a modern and satisfying guest experience.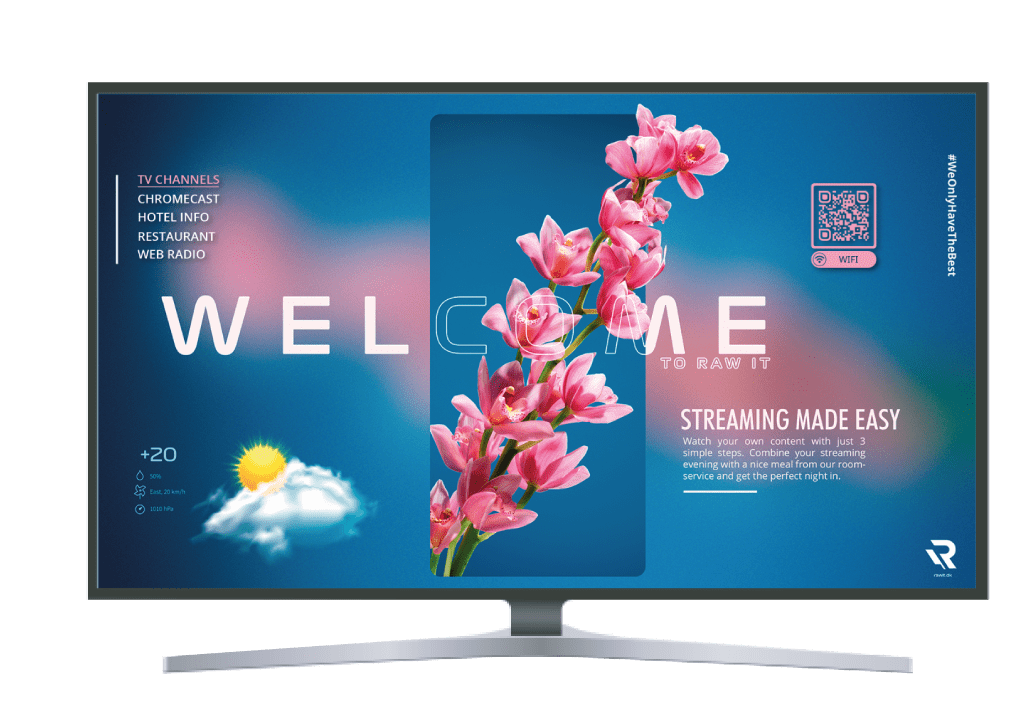 TV system which improves guest comfort
Custom design
Flexible TV menu in high resolution, where you can adapt it according to the hotel's brand identity and the guest's needs.
PMS integration
Give guests personalized information, the option to order room service, notifications, see the bill, book facilities and check-out from the TV.
Safe to operate and reliable
Cloud-based TV solution that is reliable, scalable and cost-effective, making it suitable for any building.
Compatible with all types of TV
Whether you have Samsung, LG, Sony, Philips or other TV brands, our TV solution can be easily integrated and utilize the full potential of your hotel TV.
Design your TV system or let our experts do it for you
The program is designed with drag-and-drop elements that make it easy for you to upload and place them exactly where you want.
We also offer training and support to staff to ensure a smooth implementation.
Create a more engaging and personalized TV experience
Tailored entertainment for the hotel guests using the cloud-based TV system.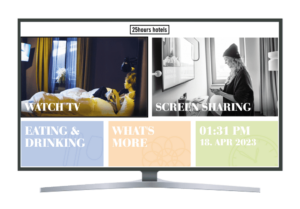 Customized selection of TV channels and program overview
TV apps: Airplay, Streaming and HDMI
Bluetooth, Miracast and SmartView
Organized radio channels from around the world
Licensed major Hollywood movies
Access to YouTube and music
Hotel videos and multimedia galleries.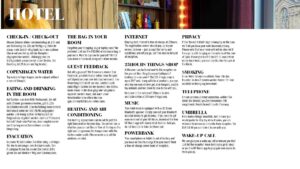 Order room service and restaurant reservations
Order services such as shopping, events and tours
Guest profile for personalization of menus and messages
The room bill on the TV, which can provide quick check-out
Alarm clock integrated with PMS
Guest surveys and feedback of the hotel directly via the TV system
The TV system reduces the need to contact reception or use additional devices, saving time and improving the service experience.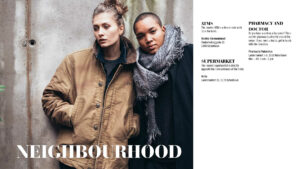 Show which attractions, events and activities are in the area, including pictures and descriptions.

Interactive maps on the TV that help guests navigate the area and find the best routes to attractions and transportation options.

Advertising of local businesses that can generate income.

Online booking for attractions and events directly through the TV.

Feedback and reviews from guests about attractions, helping to improve recommendations for future guests.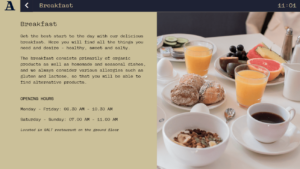 Hotel information summary
Live view of, for example, news, weather and flight times
Fully customized welcome message and video
Guest inbox with security support
Information about Wi-Fi login
Improved Guest Experience: A television system for the hotel gives guests access to their favorite content, increasing satisfaction and comfort during their stay.

Attractive Facilities: A TV system shows that the hotel is updated with the latest technology.

Differentiation from the Competitors: A unique TV system differentiates the hotel from other hotels.

Better Guest Communication: The TV system can be used to provide information about the hotel's services, events and local attractions.

Highlight branding of the hotel: Customized welcome messages and hotel logos on the TV system reinforce the hotel's branding.

Data Collection: Through the TV system, the hotel can collect data about the guests' preferences, which can be used to improve service and adapt offers.

Reduce costs on TV channels: Get an overview with data collection of which TV channels guests use the most and reduce the ones they don't use.


Environmental friendliness: Online information on the TV system can reduce the need for printed materials and thus contribute to sustainability.
Get a call from an advisor and
hear more about
the TV system